France Map
Large detailed map of France with cities
France regions map (new)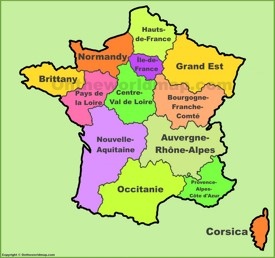 Administrative map of France (old)
France physical map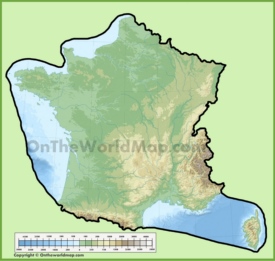 France political map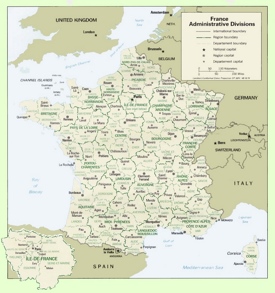 France railway map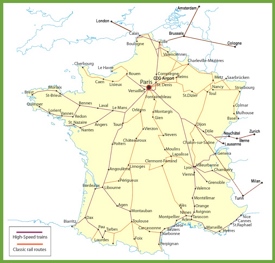 Regions and departements map of France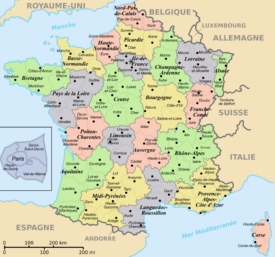 France population density map
France wine regions map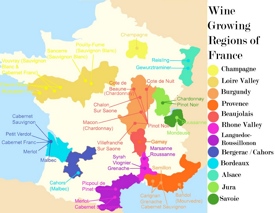 South of France Map
Map of Northern France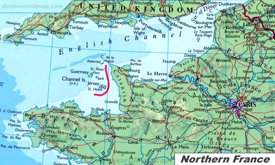 France location on the Europe map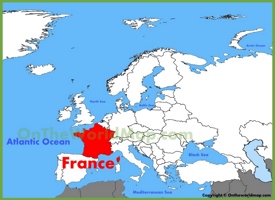 Map of Spain and France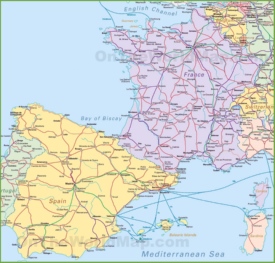 Map of Switzerland, Italy, Germany and France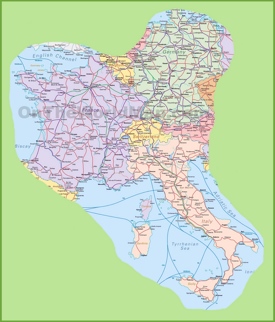 ---
About France:
The Facts:
Capital: Paris.
Area: 248,573 sq mi (643,801 sq km).
Population: ~ 68,000,000.
Largest cities: Paris, Marseille, Lyon, Toulouse, Nice, Nantes, Montpellier, Strasbourg, Bordeaux, Lille, Rennes, Reims, Saint-Étienne, Le Havre, Toulon, Grenoble, Dijon, Angers, Nîmes, Villeurbanne.
Official language: French.
Currency: Euro (€) (EUR).
Regions of France: Brittany, Centre-Val de Loire, Corsica, Île-de-France, Martinique, Mayotte, Pays de la Loire, Provence-Alpes-Côte d'Azur, French Guiana, Guadeloupe, Réunion.
Former Regions of France: Burgundy, Franche-Comté, Aquitaine, Limousin, Languedoc-Roussillon, Midi-Pyrénées, Nord-Pas-de-Calais, Poitou-Charentes, Lower Normandy, Upper Normandy, Alsace, Champagne-Ardenne, Lorraine, Picardy, Auvergne, Rhône-Alpes.

Departments of France: Ain, Aisne, Allier, Alpes-de-Haute-Provence, Alpes-Maritimes, Ardèche, Ardennes, Ariège, Aube, Aude, Aveyron, Bas-Rhin, Bouches-du-Rhône, Calvados, Cantal, Charente, Charente-Maritime, Cher, Corrèze, Corse-du-Sud, Côte-d'Or, Côtes-d'Armor, Creuse, Deux-Sèvres, Dordogne, Doubs, Drôme, Essonne, Eure, Eure-et-Loir, Finistère, Gard, Gers, Gironde, Guadeloupe, Guyane, Haut-Rhin, Haute-Corse, Haute-Garonne, Haute-Loire, Haute-Marne, Haute-Saône, Haute-Savoie, Haute-Vienne, Hautes-Alpes, Hautes-Pyrénées, Hauts-de-Seine, Hérault, Ille-et-Vilaine, Indre, Indre-et-Loire, Isère, Jura, Landes, Loir-et-Cher, Loire, Loire-Atlantique, Loiret, Lot, Lot-et-Garonne, Lozère, Maine-et-Loire, Manche, Marne, Martinique, Mayenne, Mayotte, Meurthe-et-Moselle, Meuse, Morbihan, Moselle, Nièvre, Nord, Oise, Orne, Paris, Pas-de-Calais, Puy-de-Dôme, Pyrénées-Atlantiques, Pyrénées-Orientales, Réunion, Rhône, Saône-et-Loire, Sarthe, Savoie, Seine-et-Marne, Seine-Maritime, Seine-Saint-Denis, Somme, Tarn, Tarn-et-Garonne, Territoire de Belfort, Val-d'Oise, Val-de-Marne, Var, Vaucluse, Vendée, Vienne, Vosges, Yonne, Yvelines.