Guadeloupe Map
Guadeloupe Location Map
Full size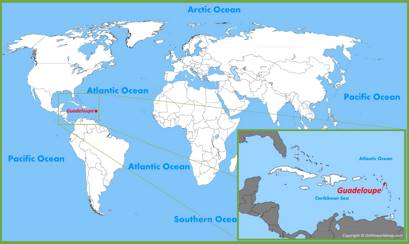 Guadeloupe location on the Caribbean Map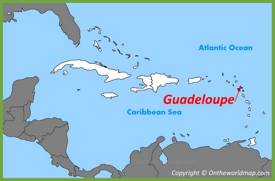 Guadeloupe location on the North America map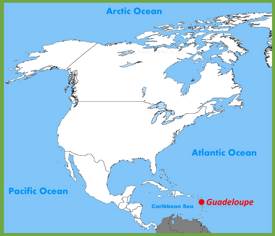 ---
About Guadeloupe:
The Facts:
Prefecture: Basse-Terre.
Capital: Basse-Terre.
Area: 629 sq mi (1,628 sq km).
Population: ~ 390,000.
Cities and Towns: Pointe-à-Pitre, Basse-Terre, Les Abymes, Baie-Mahault, Le Gosier, Petit-Bourg, Sainte-Anne, Le Moule, Sainte-Rose, Capesterre-Belle-Eau, Morne-à-l'Eau, Lamentin, Saint-François, Saint-Claude, Petit-Canal, Trois-Rivières.
Official language: French.
Currency: Euro (€) (EUR)​.
Arrondissements of the Guadeloupe department: Pointe-à-Pitre, Basse-Terre.
Islands: Basse-Terre, Grande-Terre, Marie-Galante, La Désirade, Îles des Saintes.