French Polynesia Map
Click to see large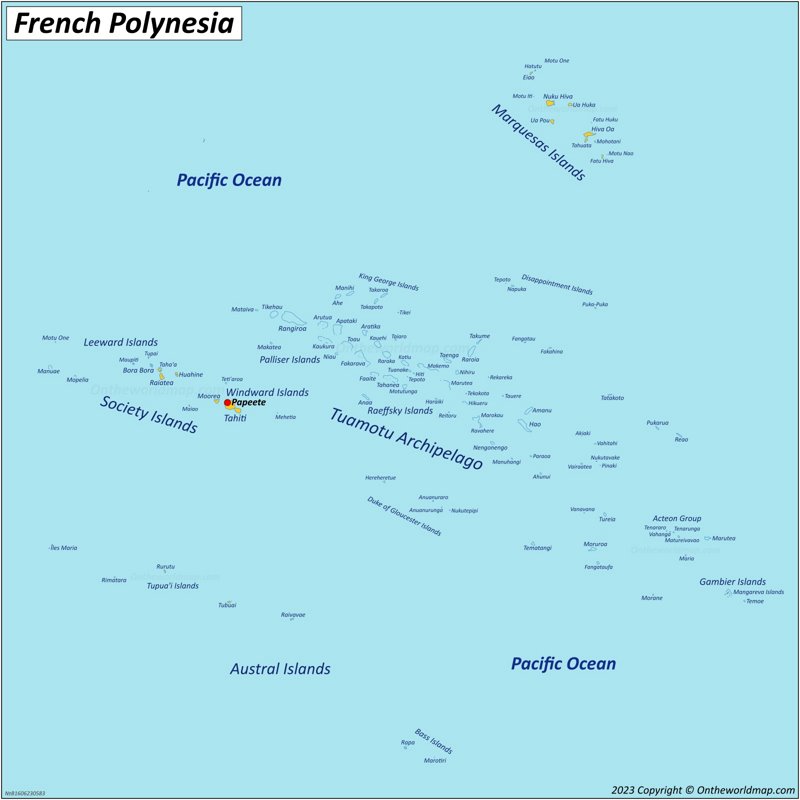 French Polynesia Location Map
Full size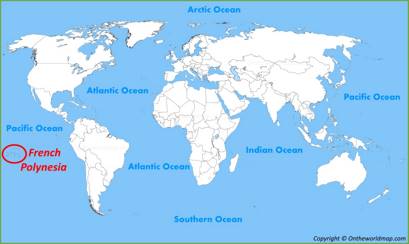 Online Map of French Polynesia
French Polynesia Political Map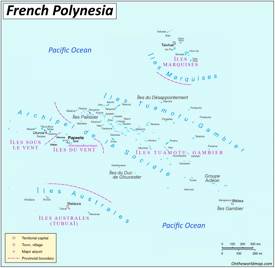 French Polynesia Location On The Oceania Map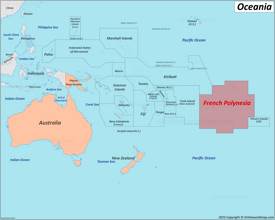 ---
About French Polynesia:
The Facts:
Sovereign state: France.
Capital: Papeete.
Area: 1,609 sq mi (4,167 sq km).
Population: ~ 280,000.
Official language: French.
Currency: CFP franc (₣) (XPF)​.
Administrative divisions: Marquesas Islands, Leeward Islands, Windward Islands, Tuamotu-Gambier, Austral Islands.

Cities, Towns and Villages: Papeete, Vaitape, Rikitea, Taiohae, Atuona, Hakahau, Avatoru, Tuherahera, Tenukupara, Rotoava, Pouheva, Pahua, Otepa, Tepukamaruia, Tupapati, Hitianau, Garumaoa, Ohomo.


Islands of French Polynesia
Austral Islands:
Rimatara
,
Rurutu
,
Tubuai
,
Raivavae
,
Îles Maria
, Rapa Iti, Marotiri.
Gambier Islands:
Mangareva
,
Akamaru
,
Aukena
,
Taravai
, Angakauitai, Kamaka, Temoe.
Marquesas Islands:
Nuku Hiva
,
Hiva ʻOa
,
Ua Pou
,
Ua Huka
,
Tahuata
,
Fatu Hiva
, Eiao, Hatutu, Motu Iti, Motu Oa, Motu One, Fatu Huku, Moho Tani, Motu Nao, Terihi.
Society Islands:
Windward Islands:
Tahiti
,
Tetiꞌaroa
,
Moorea
,
Maiao
, Mehetia.
Leeward Islands:
Huahine
,
Raiatea
,
Taha'a
,
Bora Bora
,
Tupai
,
Maupiti
, Mopelia, Motu One, Manuae.
Tuamotu Archipelago:
Ahe
, Ahunui, Akiaki, Amanu,
Anaa
, Anuanuraro, Anuanurunga, Apataki, Aratika, Arutua, Avatika,
Faaite
, Fakahina,
Fakarava
, Fangatau, Fangataufa,
Hao
, Haraiki,
Hereheretue
,
Hikueru
, Hiti, Katiu, Kauehi, Kaukura,
Makatea
,
Makemo
,
Manihi
, Manuhangi, Marokau, Marutea Nord,
Mataiva
, Moruroa, Motutunga,
Napuka
, Nengonengo,
Niau
, Nihiru, Nukutavake, Nukutepipi, Paraoa, Pinaki,
Puka-Puka
, Pukarua,
Rangiroa
, Raraka,
Raroia
, Ravahere, Reao, Reitoru, Rekareka, Taenga, Tahanea, Taiaro, Takapoto, Takaroa,
Takume
, Tatakoto, Tauere, Tekokota,
Tematagi
, Tepoto, Tepoto,
Tikehau
, Tikei, Toau, Tuanake, Tureia, Vahitahi, Vairaatea, Vanavana.