Venezuela Map
Click to see large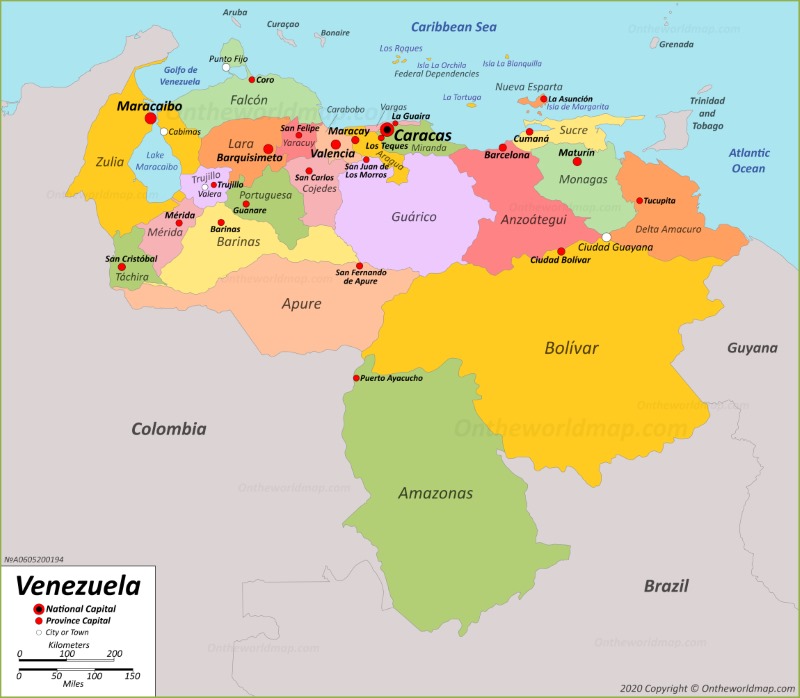 Venezuela Location Map
Full size
Large detailed map of Venezuela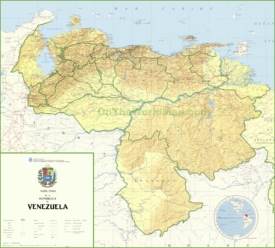 Venezuela states map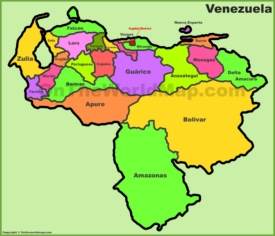 Venezuela physical map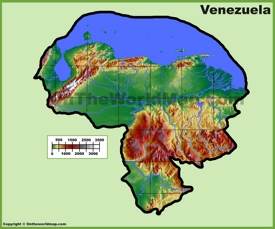 Map of Venezuela with cities and towns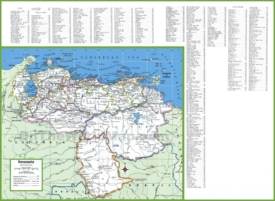 Venezuela political map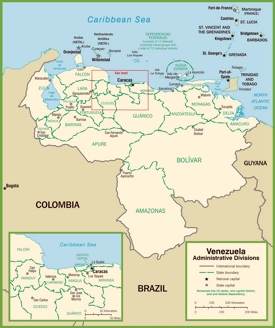 Venezuela road map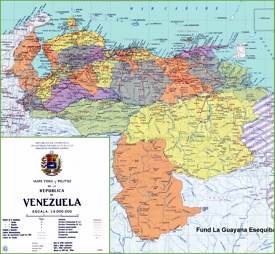 Venezuela location on the Caribbean map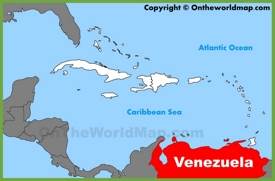 Venezuela location on the South America map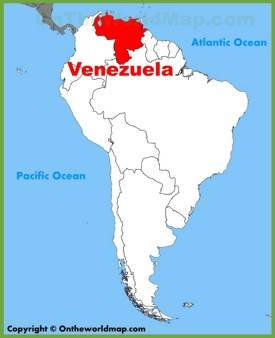 ---
About Venezuela:
Venezuela is officially named the Bolivarian Republic of Venezuela and located in South America (northern coast). It is a federal presidential republic that consists of 23 states. The neighbors are Brazil in the south, Colombia in the west, the Islands of Trinidad and Tobago in the north-west, and Guyana in the east.

The capital and largest city is Caracas. The official language is Spanish. It used to be one of the first American-Spanish colonies.

Venezuela has a poor economy and has problems with inflation, high criminality and market shortages. Although the country has oil and it is one of the leading exporters in oil.

The Facts:
Capital: Caracas.
Area: 353,841 sq mi (916,445 sq km).
Population: ~ 28,000,000.
Largest cities: Caracas, Maracaibo, Valencia, Barquisimeto, Maracay, Ciudad Guayana, Maturín, Barcelona, Cumaná, Barinas, Ciudad Bolívar, San Cristóbal, Cabimas, Los Teques, Puerto la Cruz, Punto Fijo, Mérida, Guarenas, Ciudad Ojeda, Guanare, Coro, Porlamar, Juan Griego.
Islands: Margarita Island, Los Roques.
Official language: Spanish.
Currency: Bolívar Soberano (VES).