Syria Map
Click to see large:
1250x1188
|
1500x1425
|
WebP 1500x1425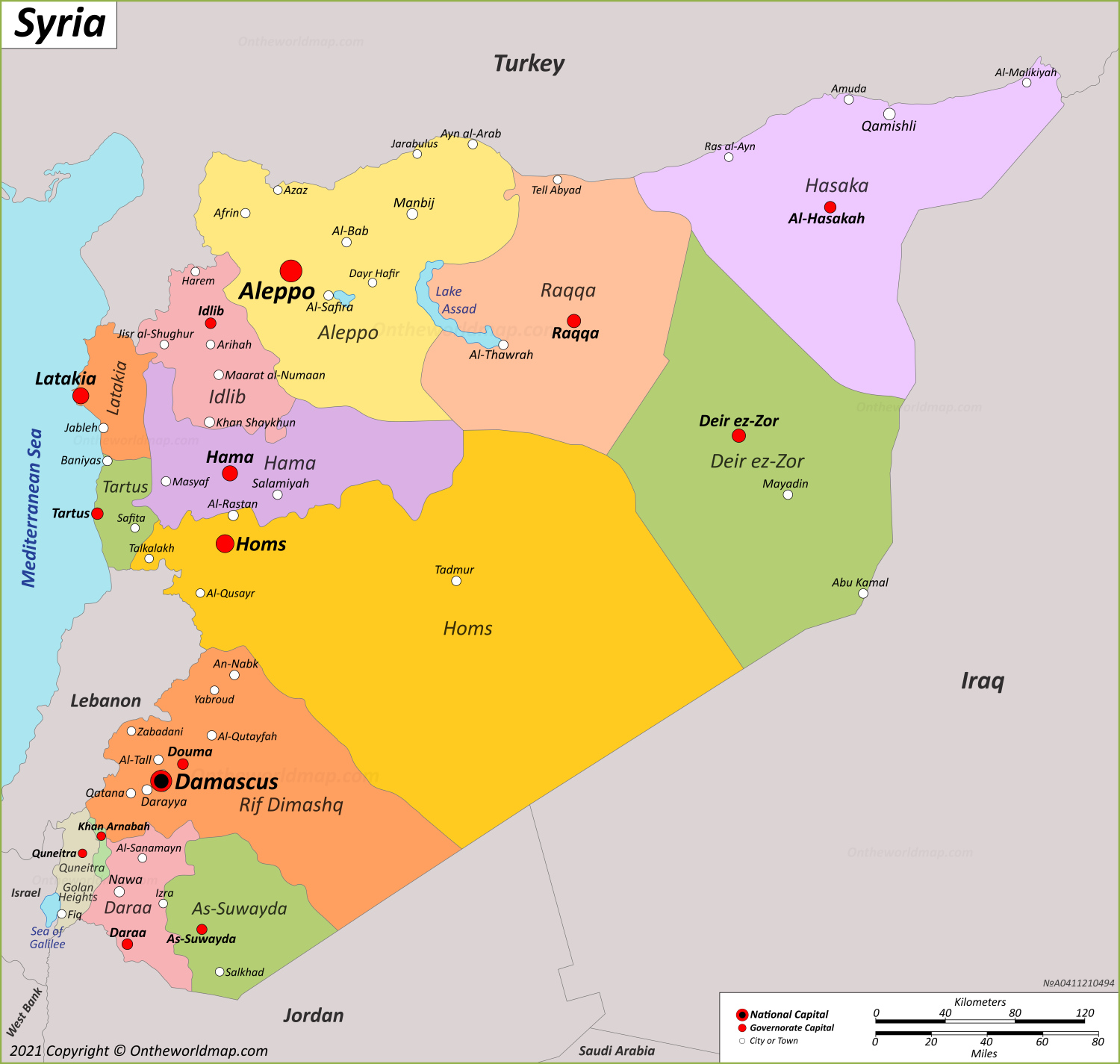 Syria Location Map
Full size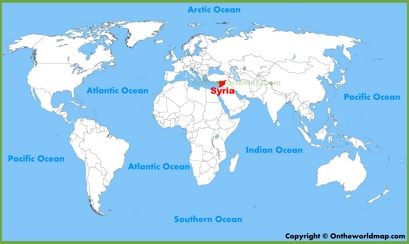 Large detailed map of Syria with cities and towns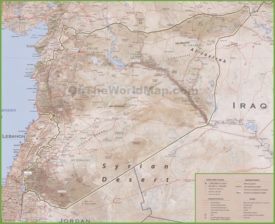 Syria political map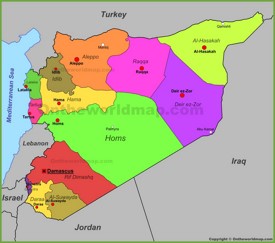 Syria war map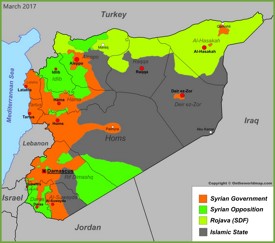 Administrative divisions map of Syria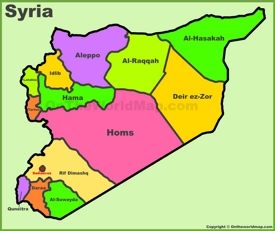 Topographic map of Syria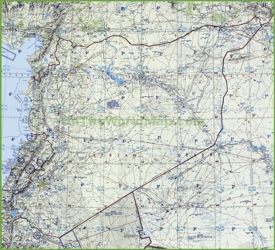 Syria Physical Map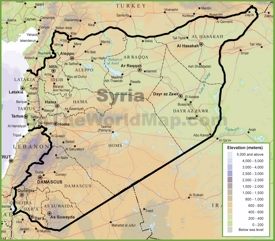 Syria ethnoreligious map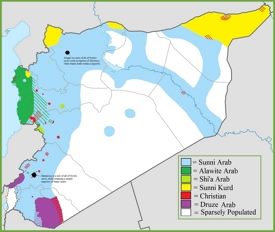 Map of Syria, Iraq and Turkey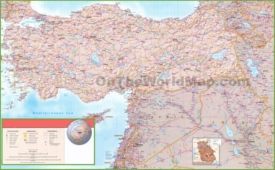 Syria location on the Asia map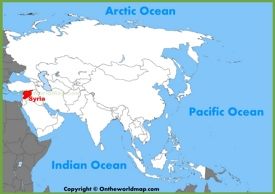 ---
About Syria:
The Facts:
Capital: Damascus.
Area: 71,500 sq mi (185,180 sq km).
Population: ~ 17,500,000.
Largest cities: Aleppo, Damascus, Homs, Latakia, Hama, Raqqa, Deir ez-Zor, Al-Hasakah, Qamishli, Tartus, Douma, Manbij, Idlib, Daraa, Darayya, As-Suwayda, Al-Thawrah, Salamiyah, Al-Safira, Al-Bab, Maarat al-Numaan, Jableh, Tadmur, Ayn al-Arab, Al-Tall, Mayadin, Abu Kamal, Baniyas, Jisr al-Shughur, Al-Rastan, Arihah, Afrin, Qatana, Qudsaya, An-Nabk, Azaz, Al-Qusayr, Ras al-Ayn, Al-Qutayfah, Al-Malikiyah, Zabadani, Al-Sanamayn, Yabroud, Salqin, Masyaf, Harem, Safita, Izra, Dayr Hafir, Talkalakh, Mhardeh, Taldou, Tell Abyad, Al-Suqaylabiyah, Duraykish, Jarabulus, Atarib, Al-Shaykh Badr, Salkhad, Qardaha, Al-Mukharram, Al-Haffah, Fiq, Quneitra, Sayyidah Zaynab, Al-Hajar al-Aswad, Binnish, Bosra, Dayr 'Atiyah, Harasta, Jaramana, Kafr Nabl, Khan Shaykhun, Ma'arrat Misrin, Nawa, Kafr Takharim, Saraqib, Talbiseh.
Official language: Arabic.
Currency: Syrian pound (SYP).

Governorates of Syria: Aleppo, Raqqa, As-Suwayda, Damascus, Daraa, Deir ez-Zor, Hama, Hasaka, Homs, Idlib, Latakia, Quneitra, Rif Dimashq, Tartus, Damascus.

Districts of Syria: Damascus, Hama, Masyaf, Mahardah, Salamiyah, Al-Suqaylabiyah, Homs, Al-Mukharram, Al-Qusayr, Ar-Rastan, Tadmur, Taldou, Talkalakh, Latakia, Al-Haffah, Jableh, Qardaha, Tartus, Baniyas, Duraykish, Safita, Al-Shaykh Badr, Mount Simeon, Afrin, Atarib, Ayn al-Arab, Azaz, Al-Bab, Dayr Hafir, Jarabulus, Manbij, Safirah, Deir ez-Zor, Abu Kamal, Mayadin, Al-Hasakah, Al-Malikiyah, Qamishli, Ra's al-'Ayn, Idlib, Arihah, Harem, Jisr al-Shughur, Ma'arrat al-Numan, Raqqa, Tell Abyad, Al-Thawrah, Daraa, Izra, Al-Sanamayn, Quneitra, Fiq, Markaz Rif Dimashq, Darayya, Douma, An-Nabek, Qatana, Qudsaya, Al-Qutayfah, Al-Tall, Yabroud, Al-Zabadani, As-Suwayda, Salkhad, Shahba.