Ticino Map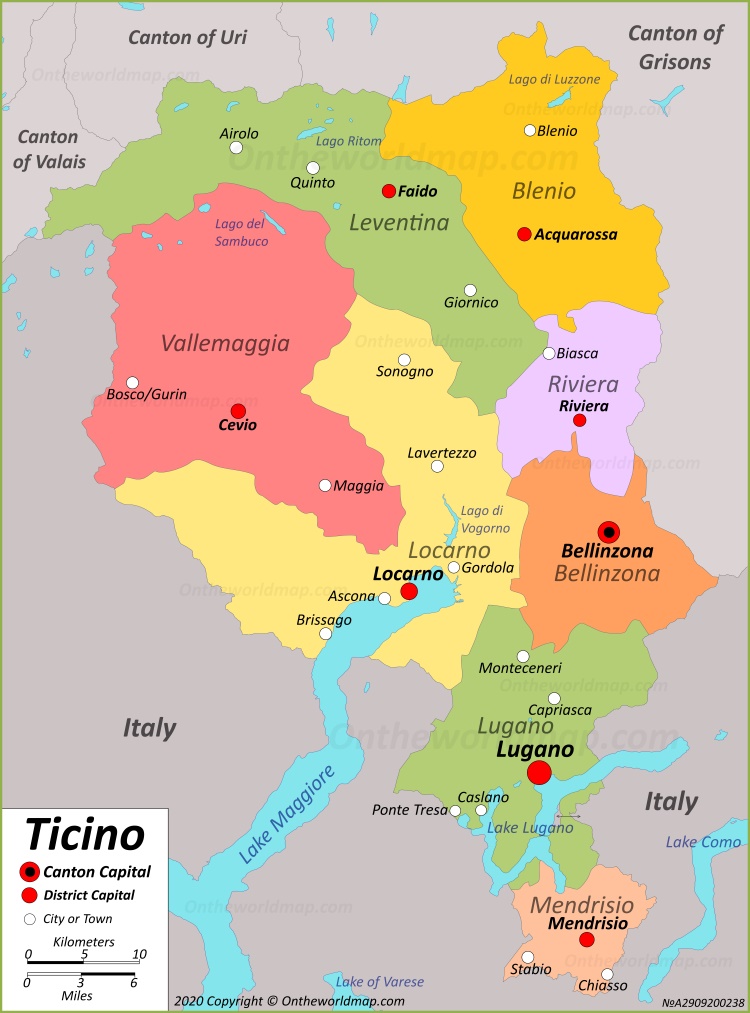 Canton of Ticino Location Map
Full size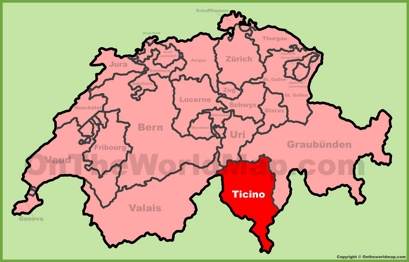 Online Map of Canton of Ticino
Ticino Tourist Map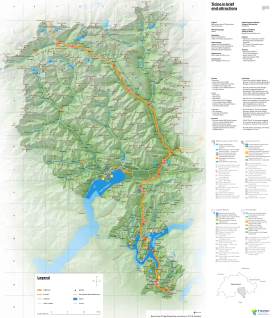 Canton of Ticino municipality map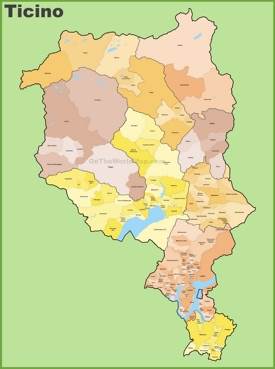 Map of Ticino with cities and towns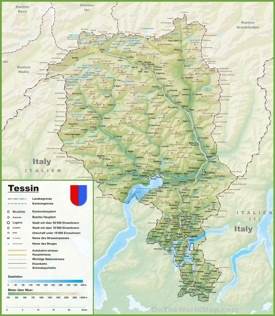 Canton of Ticino district map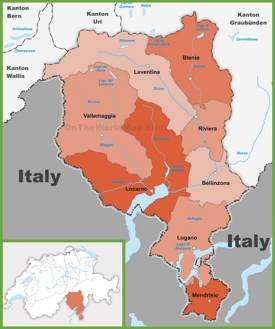 ---
About Canton of Ticino:
The Facts:
Capital: Bellinzona.
Area: 1,086 sq mi (2,812 sq km).
Population: ~ 354,000.
Largest cities: Lugano, Locarno, Ascona.
Districts: Bellinzona, Blenio, Leventina, Locarno, Lugano, Mendrisio, Riviera, Vallemaggia.
Municipalities: Acquarossa, Agno, Airolo, Alto MalCantone, Aranno, Arbedo-Castione, Arogno, Ascona, Astano, Avegno Gordevio, Balerna, Bedano, Bedigliora, Bedretto, Bellinzona, Biasca, Bioggio, Bissone, Blenio, Bodio, Bosco/Gurin, Breggia, Brione (Verzasca), Brione sopra Minusio, Brissago, Brusino Arsizio, Cademario, Cadempino, Cadenazzo, Camorino, Campo (Vallemaggia), Canobbio, Capriasca, Caslano, Castel San Pietro, Centovalli, Cerentino, Cevio, Chiasso, Claro, Coldrerio, Collina d'Oro, Comano, Corippo, Cresciano, Croglio, Cugnasco-Gerra, Cureglia, Curio, Dalpe, Faido, Frasco, Gambarogno, Giornico, Giubiasco, Gnosca, Gordola, Gorduno, Grancia, Gravesano, Gresso, Gudo, Iragna, Isone, Isorno, Lamone, Lavertezzo, Lavizzara, Linescio, Locarno, Lodrino, Losone, Lugano, Lumino, Maggia, Magliaso, Manno, Maroggia, Massagno, Melano, Melide, Mendrisio, Mergoscia, Mezzovico-Vira, Miglieglia, Minusio, Moleno, Monte Carasso, Monteceneri, Monteggio, Morbio Inferiore, Morcote, Mosogno, Muralto, Muzzano, Neggio, Novaggio, Novazzano, Onsernone, Origlio, Orselina, Osogna, Paradiso, Personico, Pianezzo, Pollegio, Ponte Capriasca, Ponte Tresa, Porza, Prato (Leventina), Preonzo, Pura, Quinto, Ticino|Quinto, Riva San Vitale, Ronco sopra Ascona, Rovio, Ticino|Rovio, Sant'Antonino, Sant'Antonio, Savosa, Sementina, Serravalle, Sessa, Ticino|Sessa, Sobrio, Sonogno, Sorengo, Stabio, Tenero-Contra, Terre di Pedemonte, Torricella-Taverne, Vacallo, Vergeletto, Vernate, Ticino|Vernate, Vezia, Vico Morcote, Vogorno.
Official language: Italian.