Canton of Bern Maps
Canton of Bern Location Map
Full size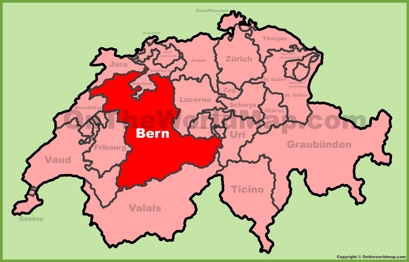 Online Map of Canton of Bern
Canton of Bern map with cities and towns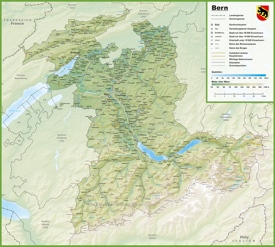 Canton of Bern municipality map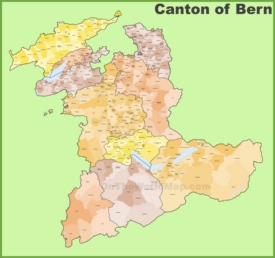 Canton of Bern district map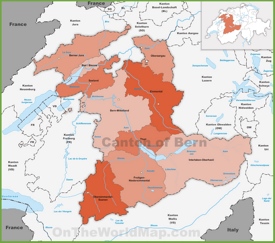 ---
About Canton of Bern:
The Facts:
Capital: Bern.
Area: 15,940 sq mi (41,285 sq km).
Population: ~ 8,250,000.
Largest cities: Bern, Biel/Bienne, Moutier.
Ski resorts:Gstaad, Adelboden, Interlaken, Wengen, Grindelwald.
Districts: Bern-Mittelland, Biel/Bienne, Emmental, Frutigen-Niedersimmental, Interlaken-Oberhasli, Jura bernois, Oberaargau, Obersimmental-Saanen, Seeland, Thun.
Municipalities: Aarberg, Aarwangen, Adelboden, Aefligen, Aegerten, Aeschi bei Spiez, Affoltern im Emmental, Albligen, Alchenstorf, Allmendingen, Amsoldingen, Arch, Switzerland|Arch, Arni, Attiswil, Auswil, Bangerten, Bannwil, Bargen, Bäriswil, Bätterkinden, Beatenberg, Bellmund, Belp, Belprahon, Berken, Bern, Bettenhausen, Bévilard, Biel/Bienne, Biglen, Bleienbach, Bleiken bei Oberdiessbach, Blumenstein, Bolligen, Bollodingen, Boltigen, Bönigen, Bowil, Bremgarten bei Bern, Brenzikofen, Brienz, Brienzwiler, Brügg, Brüttelen, Buchholterberg, Büetigen, Bühl bei Aarberg, Büren an der Aare, Büren zum Hof, Burgdorf, Burgistein, Busswil bei Melchnau, Champoz, Châtelat, Clavaleyres, Corcelles, Corgémont, Cormoret, Cortébert, Court, Courtelary, Crémines, Därligen, Därstetten, Deisswil bei Münchenbuchsee, Diemerswil, Diemtigen, Diessbach bei Büren, Diesse, Dotzigen, Dürrenroth, Eggiwil, Epsach, Eriswil, Eriz, Erlach, Erlenbach im Simmental, Ersigen, Eschert, Etzelkofen, Evilard, Fahrni, Farnern, Ferenbalm, Finsterhennen, Forst-Längenbühl, Fraubrunnen, Frauenkappelen, Freimettigen, Frutigen, Gadmen, Gals, Gampelen, Gelterfingen, Gerzensee, Golaten, Gondiswil, Graben, Grafenried, Grandval, Grindelwald, Grossaffoltern, Grosshöchstetten, Gsteig bei Gstaad, Gsteigwiler, Guggisberg, Gündlischwand, Gurbrü, Gurzelen, Guttannen, Habkern, Hagneck, Hasle bei Burgdorf, Hasliberg, Häutligen, Heiligenschwendi, Heimberg, Heimenhausen, Heimiswil, Hellsau, Herbligen, Hermiswil, Hermrigen, Herzogenbuchsee, Hilterfingen, Hindelbank, Höchstetten, Höfen, Hofstetten bei Brienz, Homberg, Horrenbach-Buchen, Huttwil, Iffwil, Inkwil, Innertkirchen, Ins, Interlaken, Ipsach, Iseltwald, Ittigen, Jaberg, Jegenstorf, Jens, Kallnach, Kandergrund, Kandersteg, Kappelen, Kaufdorf, Kehrsatz, Kernenried, Kienersrüti, Kiesen, Kirchberg, Kirchdorf, Kirchenthurnen, Kirchlindach, Köniz, Konolfingen, Koppigen, Krattigen, Krauchthal, Kriechenwil, La Ferrière, La Heutte, La Neuveville, Lamboing, Langenthal, Langnau im Emmental, Lauenen, Laupen, Bern|Laupen, Lauperswil, Lauterbrunnen, Leimiswil, Leissigen, Lengnau, Lenk im Simmental, Leuzigen, Ligerz, Limpach, Linden, Lohnstorf, Lotzwil, Loveresse, Lüscherz, Lütschental, Lützelflüh, Lyss, Lyssach, Madiswil, Malleray, Matten bei Interlaken, Mattstetten, Meienried, Meikirch, Meinisberg, Meiringen, Melchnau, Merzligen, Mirchel, Monible, Mont-Tramelan, Moosseedorf, Mörigen, Mötschwil, Moutier, Mühleberg, Mühledorf, Mühlethurnen, Mülchi, Münchenbuchsee, Münchenwiler, Münchringen, Münsingen, Müntschemier, Muri bei Bern, Neuenegg, Nidau, Niederbipp, Niederhünigen, Niedermuhlern, Niederönz, Niederösch, Niederried bei Interlaken, Niederried bei Kallnach, Niederstocken, Nods, Noflen, Oberbalm, Oberbipp, Oberburg, Oberdiessbach, Oberhofen am Thunersee, Oberhünigen, Oberlangenegg, Oberösch, Oberried am Brienzersee, Obersteckholz, Oberstocken, Oberthal, Oberwil bei Büren, Oberwil im Simmental, Ochlenberg, Oeschenbach, Oppligen, Orpund, Orvin, Ostermundigen, Perrefitte, Péry, Pieterlen, Plagne, Pohlern, Pontenet, Port, Prêles, Radelfingen, Rapperswil, Rebévelier, Reconvilier, Reichenbach im Kandertal, Reisiswil, Renan, Reutigen, Riggisberg, Ringgenberg, Roches, Roggwil, Rohrbach, Rohrbachgraben, Romont, Röthenbach im Emmental, Rubigen, Rüderswil, Rüdtligen-Alchenflüh, Rüeggisberg, Rüegsau, Rumendingen, Rumisberg, Rümligen, Ruppoldsried, Rüschegg, Rüti bei Büren, Rüti bei Lyssach, Rütschelen, Saanen, Safnern, Saicourt, Saint-Imier, Saules, Saxeten, Schalunen, Schangnau, Schattenhalb, Schelten, Scheunen, Scheuren, Schlosswil, Schüpfen, Schwadernau, Schwanden bei Brienz, Schwarzenburg, Schwarzhäusern, Schwendibach, Seeberg, Seedorf, Seehof, Seftigen, Signau, Sigriswil, Siselen, Sonceboz-Sombeval, Sonvilier, Sornetan, Sorvilier, Souboz, Spiez, St. Stephan, Steffisburg, Stettlen, Studen, Sumiswald, Sutz-Lattrigen, Tägertschi, Täuffelen, Tavannes, Teuffenthal, Thierachern, Thörigen, Thun, Thunstetten, Toffen, Trachselwald, Tramelan, Treiten, Trimstein, Trub, Trubschachen, Tschugg, Twann-Tüscherz, Uebeschi, Uetendorf, Unterlangenegg, Unterseen, Ursenbach, Urtenen-Schönbühl, Uttigen, Utzenstorf, Vauffelin, Vechigen, Villeret, Vinelz, Wachseldorn, Wald, Bern|Wald, Walkringen, Walliswil bei Niederbipp, Walliswil bei Wangen, Walperswil, Walterswil, Wangen an der Aare, Wangenried, Wattenwil, Wengi, Wichtrach, Wiedlisbach, Wiggiswil, Wilderswil, Wiler bei Utzenstorf, Wileroltigen, Willadingen, Wimmis, Wohlen bei Bern, Wolfisberg, Worb, Worben, Wynau, Wynigen, Wyssachen, Zauggenried, Zäziwil, Zielebach, Zollikofen, Zuzwil, Zweisimmen, Zwieselberg.
Official language: German, French, Italian, Romansh.