Canton of Solothurn Maps
Canton of Solothurn Location Map
Full size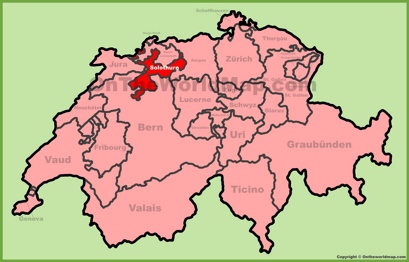 Online Map of Canton of Solothurn
Canton of Solothurn map with cities and towns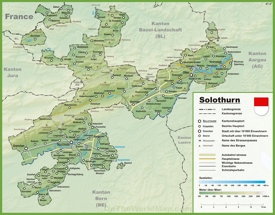 Canton of Solothurn municipality map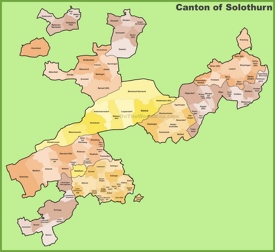 Canton of Solothurn district map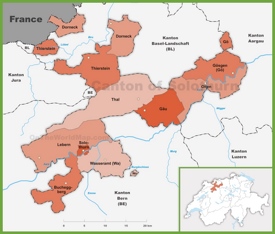 ---
About Canton of Solothurn:
The Facts:
Capital: Solothurn.
Area: 305 sq mi (790 sq km).
Population: ~ 264,000.
Largest cities: Olten.
Districts: Bucheggberg, Dorneck, Gäu, Gösgen, Lebern, Olten, Solothurn, Thal, Thierstein, Wasseramt.
Municipalities: Aedermannsdorf, Aeschi, Aetigkofen, Aetingen, Balm bei Günsberg, Balsthal, Bärschwil, Bättwil, Beinwil, Bellach, Bettlach, Biberist, Bibern, Biezwil, Bolken, Boningen, Breitenbach, Brügglen, Büren, Büsserach, Däniken, Deitingen, Derendingen, Dornach, Dulliken, Egerkingen, Eppenberg-Wöschnau, Erlinsbach, Erschwil, Etziken, Fehren, Feldbrunnen-St. Niklaus, Flumenthal, Fulenbach, Gänsbrunnen, Gempen, Gerlafingen, Gossliwil, Grenchen, Gretzenbach, Grindel, Günsberg, Gunzgen, Hägendorf, Halten, Härkingen, Hauenstein-Ifenthal, Heinrichswil-Winistorf, Herbetswil, Hersiwil, Hessigkofen, Himmelried, Hochwald, Hofstetten-Flüh, Holderbank, Horriwil, Hubersdorf, Hüniken, Kammersrohr, Kappel, Kestenholz, Kienberg, Kleinlützel, Kriegstetten, Küttigkofen, Kyburg-Buchegg, Langendorf, Laupersdorf, Lohn-Ammannsegg, Lommiswil, Lostorf, Lüsslingen, Luterbach, Lüterkofen-Ichertswil, Lüterswil-Gächliwil, Matzendorf, Meltingen, Messen, Metzerlen-Mariastein, Mühledorf, Mümliswil-Ramiswil, Nennigkofen, Neuendorf, Niederbuchsiten, Niedergösgen, Niederwil, Nuglar-St. Pantaleon, Nunningen, Oberbuchsiten, Oberdorf, Obergerlafingen, Obergösgen, Oekingen, Oensingen, Olten, Recherswil, Rickenbach, Riedholz, Rodersdorf, Rohr, Rüttenen, Schnottwil, Schönenwerd, Seewen, Selzach, Solothurn, Starrkirch-Wil, Steinhof, Stüsslingen, Subingen, Trimbach, Tscheppach, Unterramsern, Walterswil, Wangen bei Olten, Welschenrohr, Winznau, Wisen, Witterswil, Wolfwil, Zuchwil, Zullwil.
Official language: German.