Canton of Geneva Maps
Canton of Geneva Location Map
Full size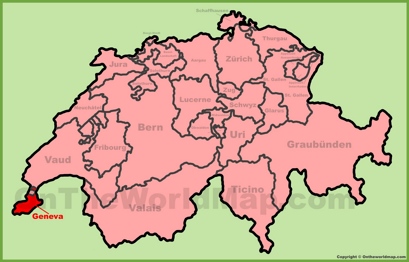 Online Map of Canton of Geneva
Canton of Geneva map with cities and towns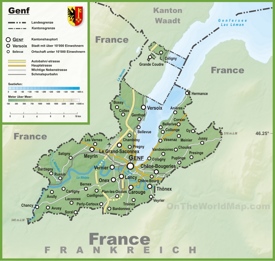 Canton of Geneva municipality map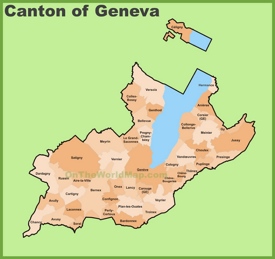 ---
About Canton of Geneva:
The Facts:
Capital: Geneva.
Area: 109 sq mi (282 sq km).
Population: ~ 483,000.
Municipalities: Aire-la-Ville, Anières, Avully, Avusy, Bardonnex, Bellevue, Bernex, Carouge, Cartigny, Céligny, Chancy, Chêne-Bougeries, Chêne-Bourg, Choulex, Collex-Bossy, Collonge-Bellerive, Cologny, Confignon, Corsier, Dardagny, Genève, Genthod, Le Grand-Saconnex, Gy, Hermance, Jussy, Laconnex, Lancy, Meinier, Meyrin, Onex, Perly-Certoux, Plan-les-Ouates, Pregny-Chambésy, Presinge, Puplinge, Russin, Satigny, Soral, Thônex, Troinex, Vandoeuvres, Vernier, Versoix, Veyrier.
Official language: French.