U.S. Virgin Islands Map
Description: This map shows islands, airport, national park, capital and major towns on U.S. Virgin Islands.
Size: 1900x1650px / 610 Kb
Author: Ontheworldmap.com
You may download, print or use the above map for educational, personal and non-commercial purposes. Attribution is required. For any website, blog, scientific research or e-book, you must place a hyperlink (to this page) with an attribution next to the image used.
---
U.S. Virgin Islands Location Map
Full size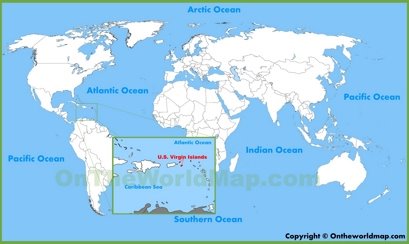 Online Map of U.S. Virgin Islands
Map of Saint Croix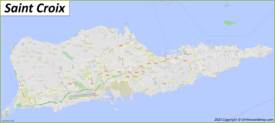 Map of Saint John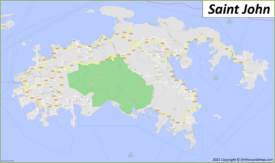 Map of Saint Thomas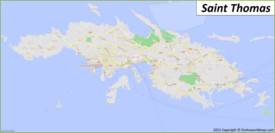 U.S. Virgin Islands physical map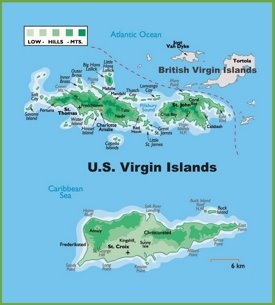 St. Thomas Island Tourist Map

St. John Island Hotel Map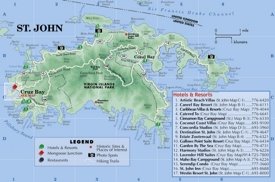 Saint Thomas Road Map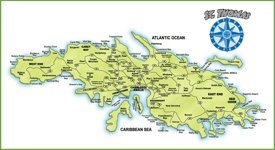 Saint John Island Tourist Map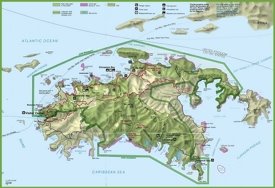 St. Croix Island Road Map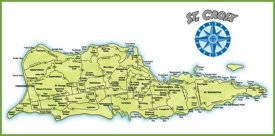 Virgin Islands Map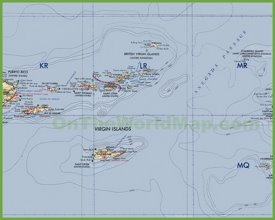 U.S. Virgin Islands location on the Caribbean map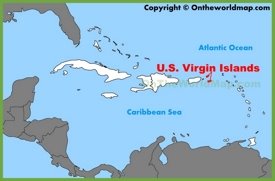 U.S. Virgin Islands location on the North America map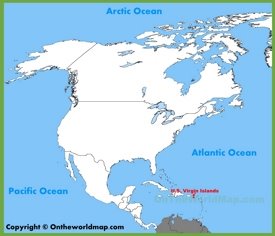 ---
About U.S. Virgin Islands:
United States Virgin Islands (U.S. Virgin Islandspx / USVIpx / American Virgin Islands) are officially named the Virgin Islands of the United States and are located in the Leeward Islands of the Lesser Antilles. It consists of Islands in the Caribbean and borders British Virgin Islands to the east and Puerto Rico to the west. The Virgin Islands are a sovereign state of the United States and it is non-self-governing territory.

The capital and largest city is Charlotte Amalie. The official language is English. The population is mainly Afro-Caribbean.

The Facts:

Capital:
Charlotte Amalie
Area:
134 sq mi (346 sq km)
Population:
~ 87,000
Official language:
English
Religion:
94.4% Christianity
3.7% no religion
1.9% other
Ethnic groups:
71.4% Black
16.6% White
3.0% other
7.5% multiracial
1.0% Asian
Currency:
United States dollar $ (USD)
Driving side:
left
Calling code:
+1–340
Internet TLD:
.vi
Time zone:
UTC−4:00 (AST)
Official government website:
www.vi.gov
Islands:
Saint Croix
,
Saint John
,
Saint Thomas
, Cas Cay, Dog Island, Great Saint James, Little Saint James, Shark Island, Thatch Cay, Kalkun Cay, Savana Island, Hans Lollik Islands, Inner Brass, Outer Brass, Buck Island, Capella Island, Hassel Island, Saba Island, Turtledove Cay, Carvel Rock, Congo Cay, Grass Cay, Lovango Cay, Mingo Cay, Steven Cay, Cinnamon Cay, Henley Cay, Ramgoat Cay, Trunk Cay, Waterlemon Cay, Whistling Cay, Flanagan Island, Leduck Island.
Cities and Towns:
Charlotte Amalie
,
Christiansted
,
Cruz Bay
,
Frederiksted
, Anna's Retreat, Charlotte Amalie West.
Districts:
Saint Croix, Saint Thomas and Saint John.
Sub-districts:
Saint Thomas and Saint John:
Charlotte Amalie, East End, Northside, Southside, Tutu, Water Island, West End, Central, Coral Bay, Cruz Bay, East End.
Saint Croix:
Anna's Hope Village, Christiansted, East End, Frederiksted, Northcentral, Northwest, Sion Farm, Southcentral, Southwest.
Parks:
Buck Island Reef NM, Christiansted NHS, Salt River Bay National Historical Park and Ecological Preserve, Virgin Islands Coral Reef NM,
Virgin Islands NP
.
Google Map of United States Virgin Islands
Last Updated: November 09, 2023