Vanuatu Map
Description: This map shows boundaries of provinces; islands, provinces, province capitals, major cities and towns in Vanuatu.
Size: 1500x1776px / 414 Kb
Author: Ontheworldmap.com
You may download, print or use the above map for educational, personal and non-commercial purposes. Attribution is required. For any website, blog, scientific research or e-book, you must place a hyperlink (to this page) with an attribution next to the image used.
---
Vanuatu Location Map
Full size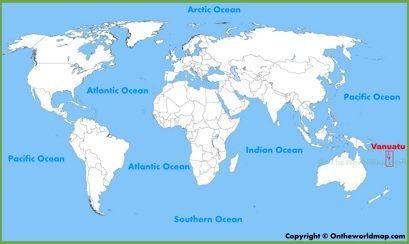 Large detailed map of Vanuatu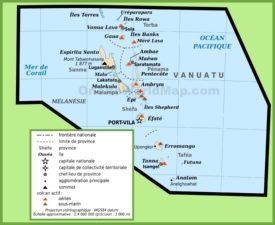 Physical map of Vanuatu islands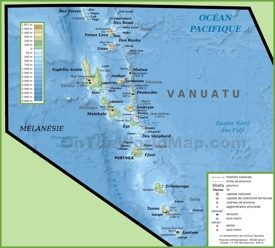 Vanuatu political map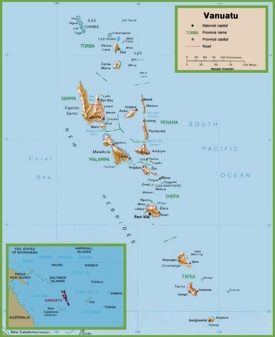 Detailed Map of Espiritu Santo Island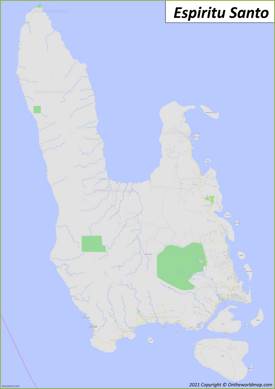 Detailed Map of Efate Island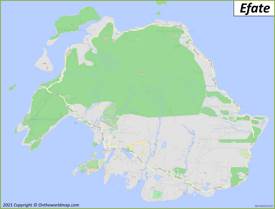 Detailed Map of Tanna Island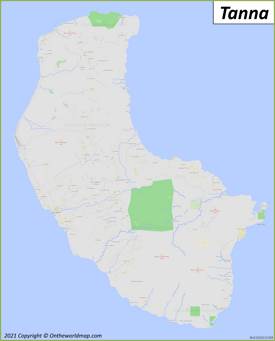 Vanuatu location on the Oceania map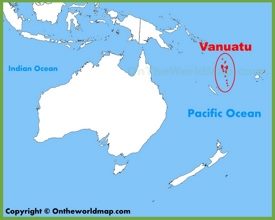 Vanuatu location on the Pacific Ocean map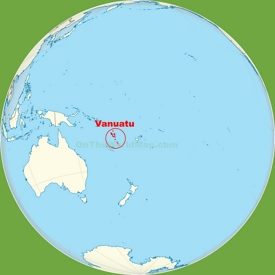 ---
About Vanuatu:
Vanuatu is officially named the Republic of Vanuatu. It is an archipelago that consists of 82 islands and located in the South Pacific Ocean. The archipelago is separated by some kilometers from New Caledonia in the northeast, the Solomon Islands in the southeast, northern Australia in the east, Fiji in the west and New Guinea in the east.
Vanuatu used to be controlled by Great Britain and France although it was first inhabited by Melanesian people.
The capital city is Port Vila. The official languages are English, French and Bislama.

The Facts:

Capital:
Port Vila
Area:
4,706 sq mi (12,189 sq km)
Population:
~ 340,000
Official language:
Bislama, French, English.
Religion:
93.4% Christianity
- 75.1% Protestantism
- 13.5% Catholicism
4.8% other Christian
4.6% Animism
1.4% Baha'i faith
Ethnic groups:
Ni-Vanuatu
Currency:
Vatu (VUV)
Driving side:
right
Calling code:
+678
Internet TLD:
.vu
Time zone:
UTC+11 (VUT)
Official government website:
www.gov.vu
Largest cities:
Port Vila
,
Luganville
, Port Olri, Saratamata, Mele, Norsup, Isangel, Sola, Lenakel, Pelicula, Littlies, Lakatoro.
Islands of Vanuatu:
Torres Islands, Hiw, Metoma, Tegua, Ngwel, Linua, Lo, Toga, Banks Islands, Vet Tagde, Ureparapara, Rowa Islands, Enwut, Lemeur, Vanua Lava, Kwakea, Leneu, Nawila, Ravenga, Gaua, Mota, Mota Lava, Ra Island, Merig, Mere Lava,
Espiritu Santo
, Dany Island, Araki Island, Elephant Island, Dolphin Island, Sakao, Malohu, Malparavu, Maltinerava, Malvapevu, Malwepe, Oyster Island, Tangoa, Bokissa, Lataro, Malo, Asuleka, Malotina, Malokilikili, Aore, Tutuba, Mavea, Lathi, Pentecost Island, Ambae, Maewo, Malakula, Akhamb, Arseo, Sakao, Maskelynes Islands, Avokh, Awei, Leumanang, Uluveo, Vulai, Norsup, Sowan, Tomman, Uri, Uripiv, Varo, Wala, Ambrym, Paama, Lopevi, Rano, Atchin, Vao, Epi, Lamen, Namuka, Tefala, Shepherd Islands, Laika, Tongoa, Tongariki, Buninga, Emae, Makura, Mataso, Monument, Ewose, Falea, Wot,
Efate
, Nguna, Emao, Moso, Lelepa Island, Ekapum Lep, Erakor, Eratap, Mele, Ifira, Iririki, Iriwiti Lep, Kakula, Pele,
Tanna
, Aniwa, Futuna, Erromango, Goat Island, Vete Manung, Anatom, Inyeug, Matthew Island, Hunter Island.
Google Map of Vanuatu
---
Provinces of Vanuatu
| Province | Capital | Islands | Area in km2 | Population |
| --- | --- | --- | --- | --- |
| Malampa | Lakatoro | Ambrym, Malakula, Paama | 2,779 | 42,000 |
| Penama | Saratamata | Pentecost Island, Ambae, Maéwo | 1,198 | 33,000 |
| Sanma | Luganville | Santo, Malo | 4,248 | 55,000 |
| Shefa | Port Vila | Efate, Shepherd Islands, Epi | 1,455 | 99,000 |
| Tafea | Isangel | Tanna, Aniwa, Futuna, Erromango, Anatom | 1,628 | 38,000 |
| Torba | Sola | Banks and Torres Islands | 882 | 11,000 |
Last Updated: November 09, 2023