Montevideo Map
Montevideo Location Map
Full size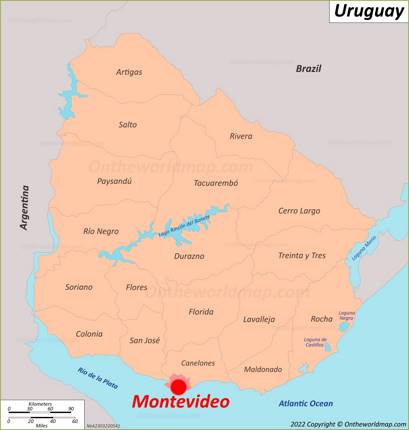 ---
About Montevideo:
The Facts:
Department: Montevideo.
Population: ~ 1,800,000.
Metropolitan population: ~ 2,000,000.
Neighborhood of Montevideo: Ciudad Vieja, Centro, Barrio Sur, Aguada, Villa Muñoz, Goes, Retiro, Cordón, Palermo, Parque Rodó, Tres Cruces, La Comercial, Larrañaga, La Blanqueada, Parque Batlle – Villa Dolores, Pocitos, Punta Carretas, Unión, Buceo, Malvín, Malvín Norte, Las Canteras, Punta Gorda, Carrasco, Carrasco Norte, Bañados de Carrasco, Flor de Maroñas, Maroñas – Parque Guaraní, Villa Española, Ituzaingó, Castro – Pérez Castellanos, Mercado Modelo – Bolívar, Brazo Oriental, Jacinto Vera, La Figurita, Reducto, Capurro – Bella Vista, Arroyo Seco, Prado – Nueva Savona, Atahualpa, Aires Puros, Paso de las Duranas, Belvedere, La Teja, Tres Ombúes – Pueblo Victoria, Villa del Cerro, Casabó – Pajas Blancas, Rincón del Cerro, La Paloma – Tomkinson, Paso de la Arena – Los Bulevares – Santiago Vázquez, Nuevo París, Conciliación, Sayago, Peñarol – Lavalleja, Colón Centro y Noroeste, Lezica – Melilla, Colón Sudeste – Abayubá, Manga – Toledo Chico, Casavalle, Barrio Borro, Cerrito de la Victoria, Las Acacias, Jardines del Hipódromo, Piedras Blancas, Manga, Punta de Rieles - Bella Italia, Villa García – Manga Rural.
Main sights: Montevideo Metropolitan Cathedral, Nuestra Señora del Sagrado Corazón, Punta Carretas Church, Plaza Independencia, Solís Theatre, the Palacio Salvo, Obelisk of Montevideo, Fortaleza del Cerro, Rambla, Museo Torres García, Museo José Gurvich, Museo Nacional de Artes Visuales, Museo Juan Manuel Blanes, Museo Historico Nacional de Montevideo, Museo Naval de Montevideo.