Asunción Map
Asunción Location Map
Full size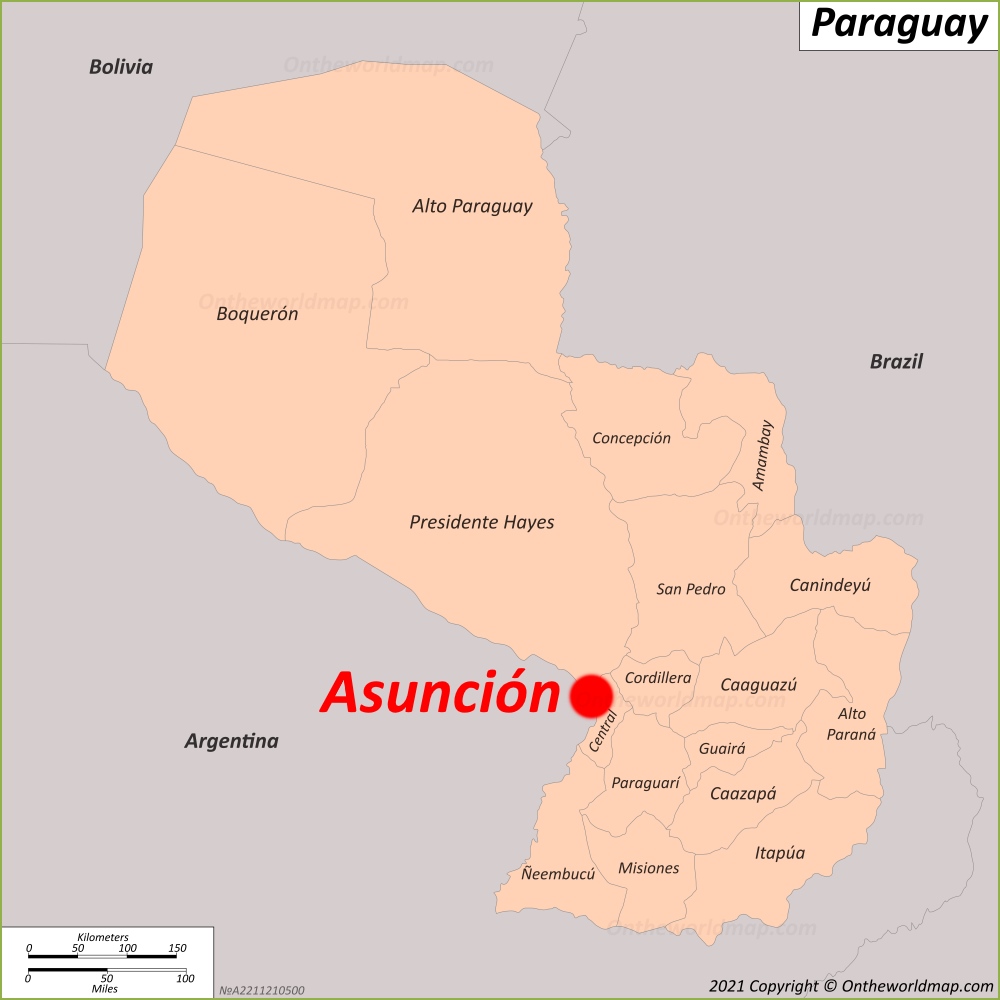 ---
About Asunción:
The Facts:
District: Capital District.
Population: ~ 530,000.
Metropolitan population: ~ 2,800,000.

Districts and neighborhoods of Asunción: Itá Enramada, Santa Ana, Bañado Santa Ana, Roberto L. Pettit, Republicano, Pirizal, Madame Lynch, Salvador del Mundo, Ñu Guazú, Mbocayaty, Mburucuyá, Trinidad, Virgen de Fátima, San Rafael, Botánico, San Vicente, Bañado Tacumbú, Obrero, Tacumbú, Sajonia, Itá Pytã Punta, San Antonio, Dr. Francia, La Encarnación, Nazareth, Villa Aurelia, Los Laureles, Mariscal Estigarribia, San Cristóbal, Herrera, Santa María, Ytay, San Jorge, Ycuá Satí, Manorá, Catedral, General Díaz, Pettirossi, San Roque, Ricardo Brugada, San Felipe, Las Mercedes, Ciudad Nueva, Carlos A. López, Seminario, Vista Alegre, Panambí Retá, Panambí Verá, San Pablo, Terminal, Hipódromo, Villa Morra, Recoleta, Tembetary, Mburicaó, General Caballero, Pinozá, Jara, Banco San Miguel, Tablada Nueva, Virgen del Huerto, Virgen de la Asunción, Bella Vista, Santo Domingo, Cañada del Ybyray, Las Lomas, Zeballos Cué, Loma Pytá, San Blas, Santa Rosa, Mariscal López.

Main sights: Godoy Museum, Museo Nacional de Bellas Artes, Church of La Encarnación, Metropolitan Cathedral, National Pantheon of the Heroes, Palacio de los López, Casa de la Independencia, Cabildo, Teatro Municipal Ignacio A. Pane, Iglesia de la Santísima Trinidad.