Bolivia Map
Click to see large
Bolivia Location Map
Full size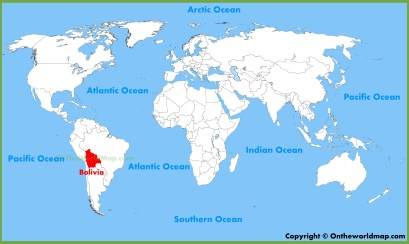 Large detailed map of Bolivia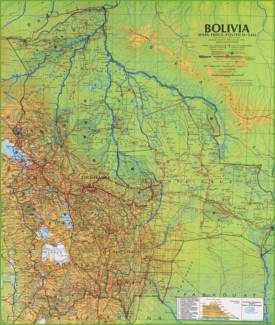 Administrative map of Bolivia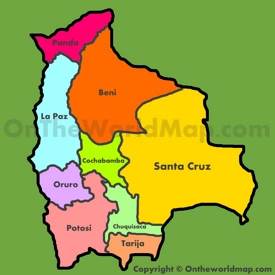 Bolivia physical map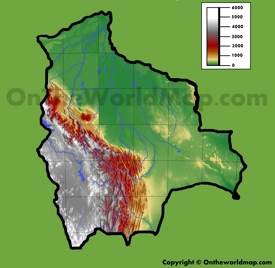 Bolivia political map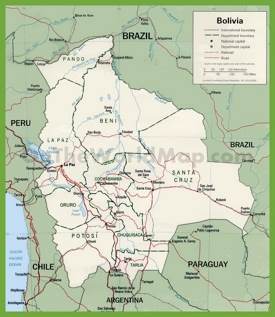 Bolivia road map
Bolivia location on the South America map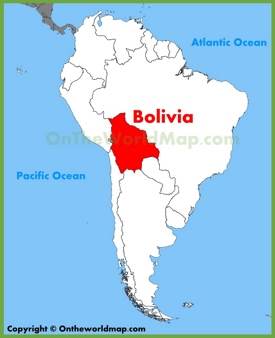 ---
About Bolivia:
The Facts:
Capital: Sucre, La Paz.
Area: 424,164 sq mi (1,098,581 sq km).
Population: ~ 11,500,000.
Largest cities: Santa Cruz de la Sierra, El Alto, La Paz, Cochabamba, Oruro, Sucre, Tarija, Potosí, Sacaba, Quillacollo, Montero, Trinidad, Warnes, Yacuíba, La Guardia, Riberalta, Viacha, Villa Tunari, Cobija, Tiquipaya.
Lakes of Bolivia: Titicaca.
Official language: Spanish, Aymara, Araona, Baure, Bésiro, Canichana, Cavineño, Cayubaba, Chácobo, Chimán, Ese Ejja, Guaraní, Guarasu'we, Guarayu, Itonama, Leco, Machajuyai-Kallawaya, Machineri, Maropa, Mojeño-Ignaciano, Mojeño-Trinitario, Moré, Mosetén, Movima, Pacawara, Puquina, Quechua, Sirionó, Tacana, Tapieté, Toromona, Uru-Chipaya, Weenhayek, Yaminawa, Yuki, Yuracaré, Zamuco, Joaquiniano, Kumsa, Paunaka.
Currency: Boliviano (BOB).
Departments of Bolivia: Beni, Chuquisaca, Cochabamba, La Paz, Oruro, Pando, Potosí, Santa Cruz, Tarija.