Mongolia Map
Click to see large:
1400x1082
|
1700x1314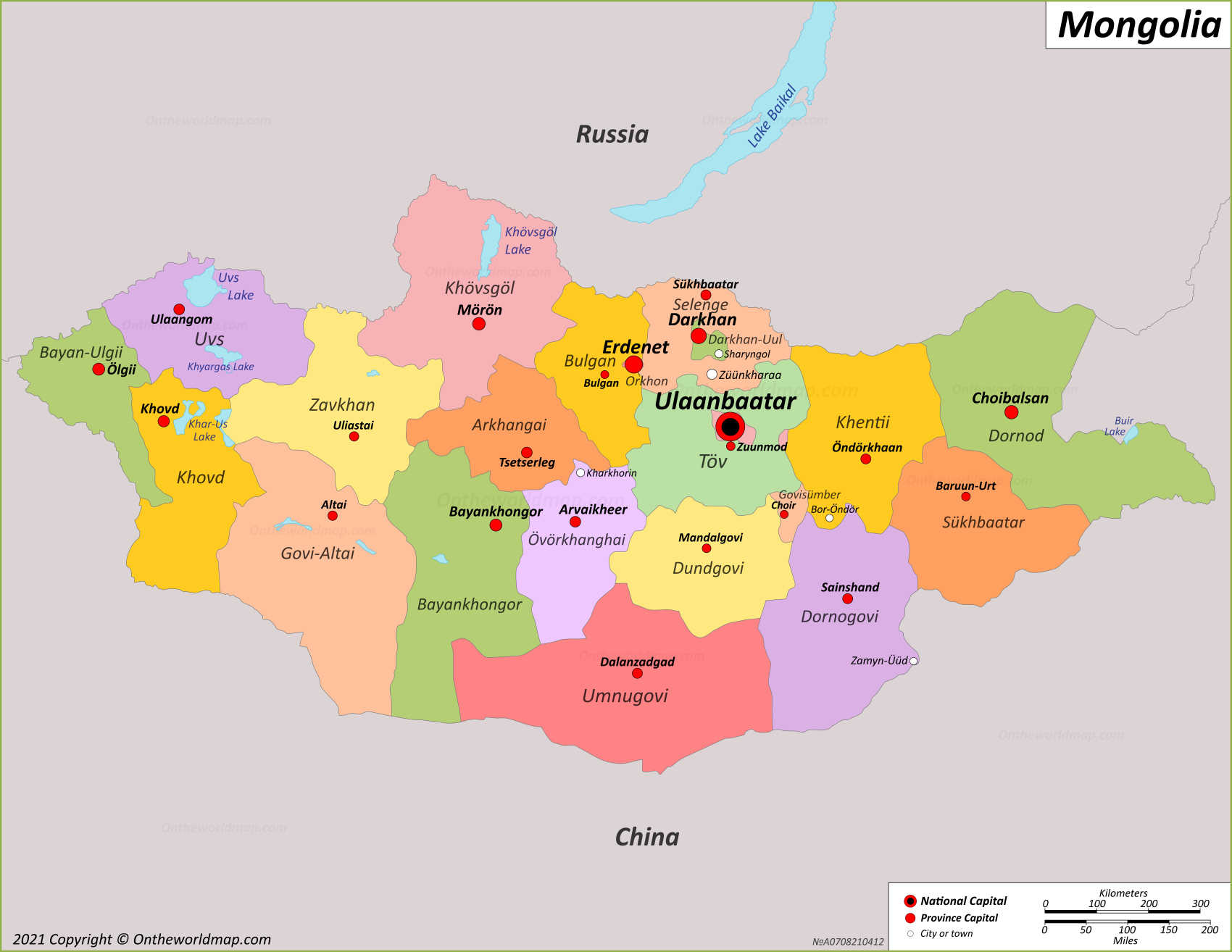 Mongolia Location Map
Full size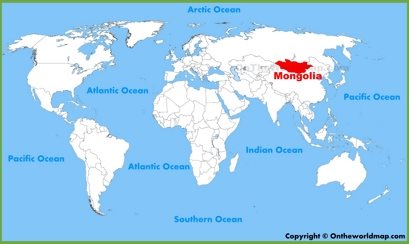 Large detailed map of Mongolia with cities and towns
Administrative divisions map of Mongolia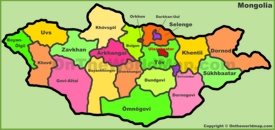 Mongolia physical map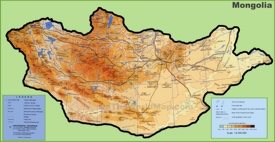 Mongolia tourist map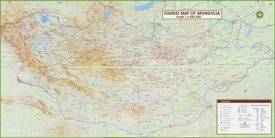 Mongolia political map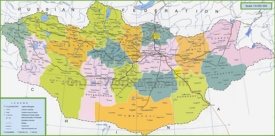 Mongolia location on the Asia map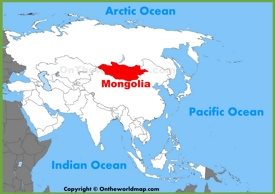 ---
About Mongolia:
The Facts:
Capital: Ulaanbaatar.
Area: 603,909 sq mi (1,564,116 sq km).
Population: ~ 3,400,000.
Largest Cities: Ulaanbaatar, Erdenet, Darkhan, Choibalsan, Mörön, Nalaikh, Bayankhongor, Ölgii, Khovd, Arvaikheer, Ulaangom, Baganuur, Sainshand, Tsetserleg, Sükhbaatar, Öndörkhaan, Dalanzadgad, Züünkharaa, Uliastai, Altai, Baruun-Urt, Mandalgovi, Zuunmod, Zamyn-Üüd, Bulgan, Kharkhorin, Choir, Bor-Öndör, Sharyngol.
Official language: Mongolian.
Currency: Tögrög (MNT).
Provinces of Mongolia: Arkhangai, Bayankhongor, Bayan-Ulgii, Bulgan, Darkhan-Uul, Dornod, Dornogovi, Dundgovi, Govi-Altai, Govisümber, Khentii, Khovd, Khövsgöl, Orkhon, Selenge, Sükhbaatar, Töv, Ömnögovi, Uvs, Övörkhanghai, Zavkhan.
Districts of Mongolia: Battsengel, Bulgan, Chuluut, Erdenebulgan, Erdenemandal, Ikh-Tamir, Jargalant, Khangai, Khashaat, Khairkhan, Khotont, Ögii nuur, Ölziit, Öndör-Ulaan, Tariat, Tsakhir, Tsenkher, Tsetserleg, Tüvshrüülekh, Altantsögts, Altai, Bayannuur, Bugat, Bulgan, Buyant, Delüün, Nogoonnuur, Ölgii, Sagsai, Tolbo, Tsagaannuur, Tsengel, Ulaankhus, Baatsagaan, Bayan-Öndör, Bayan-Ovoo, Bayanbulag, Bayangovi, Bayankhongor, Bayanlig, Bayantsagaan, Bogd, Bömbögör, Buutsagaan, Erdenetsogt, Galuut, Gurvanbulag, Jargalant, Jinst, Khüreemaral, Ölziit, Shinejinst, Zag, Bayan-Agt, Bayanuur, Bugat, Bulgan, Büregkhangai, Dashinchilen, Gurvanbulag, Khangal, Khishig-Öndör, Khutag-Öndör, Mogod, Orkhon, Rashaant, Saikhan, Selenge, Teshig, Darkhan, Khongor, Orkhon, Sharyngol, Bayan-Uul, Bayandun, Bayantümen, Bulgan, Choibalsan (sum), Chulunkhoroot, Dashbalbar, Gurvanzagal, Khalkhgol, Kherlen, Khölönbuir, Matad, Sergelen, Tsagaan-Ovoo, Altanshiree, Airag, Dalanjargalan, Delgerekh, Erdene, Khatanbulag, Khövsgöl, Ikhkhet, Mandakh, Örgön, Saikhandulaan, Sainshand, Ulaanbadrakh, Zamyn-Üüd, Adaatsag, Bayanjargalan, Delgerkhangai, Delgertsogt, Deren, Erdenedalai, Govi-Ugtaal, Gurvansaikhan, Khuld, Luus, Ölziit, Öndörshil, Saikhan-Ovoo, Saintsagaan, Tsagaandelger, Altai, Bayan-Uul, Biger, Bugat, Chandmani, Darvi, Delger, Erdene, Khaliun, Khökh morit, Jargalan, Sharga, Taishir, Tögrög, Tonkhil, Tseel, Tsogt, Yesönbulag, Bayantal, Shiveegovi, Sümber (Choir), Batnorov, Batshireet, Bayan-Adarga, Bayankhutag, Bayanmönkh, Bayan-Ovoo, Binder, Dadal, Darkhan, Delgerkhaan, Galshar, Kherlen, Jargaltkhaan, Mörön, Norovlin, Ömöndelger, Tsenkhermandal, Altai, Bulgan, Buyant, Chandmani, Darvi, Dörgön, Duut, Erdenebüren, Jargalant (Khovd city), Khovd (sum), Mankhan, Mönkhkhairkhan, Möst, Myangad, Tsetseg, Üyench, Zereg, Alag-Erdene, Arbulag, Bayanzürkh, Bürentogtokh, Chandmani-Öndör, Erdenebulgan, Galt, Khankh, Khatgal, Ikh-Uul, Jargalant, Mörön, Rashaant, Renchinlkhümbe, Shine-Ider, Tarialan, Tömörbulag, Tosontsengel, Tsagaan-Uul, Tsagaannuur, Tsagaan-Üür, Tsetserleg, Tünel, Ulaan-Uul, Bayan-Ovoo, Bayandalai, Bulgan, Dalanzadgad, Gurvan tes, Khanbogd, Khan khongor, Khürmen, Mandal-Ovoo, Manlai, Nomgon, Noyon, Sevrei, Tsogt-Ovoo, Tsogttsetsii, Bayan-Öndör, Jargalant, Arvaikheer, Baruun Bayan-Ulaan, Bat-Ölzii, Bayan-Öndör, Bayangol, Bogd, Bürd, Guchin-Us, Kharkhorin, Khairkhandulaan, Khujirt, Nariinteel, Ölziit, Sant, Taragt, Tögrög, Uyanga, Yesönzüil, Züünbayan-Ulaan, Altanbulag, Baruunbüren, Bayangol, Javkhlant, Khüder, Khushaat, Mandal, Orkhon, Orkhontuul, Sant, Saikhan, Shaamar, Sükhbaatar, Tsagaannuur, Tüshig, Yeröö, Züünbüren, Asgat, Baruun-Urt, Bayandelger, Dariganga, Erdenetsagaan, Khalzan, Mönkhkhaan, Naran, Ongon, Sükhbaatar, Tüvshinshiree, Tümentsogt, Uulbayan, Altanbulag, Argalant, Arkhust, Batsümber, Bayan, Bayan-Önjüül, Bayanchandmani, Bayandelger, Bayanjargalan, Bayankhangai, Bayantsagaan, Bayantsogt, Bornuur, Büren, Delgerkhaan, Erdene, Erdenesant, Jargalant, Lün, Möngönmort, Öndörshireet, Sergelen, Sümber, Tseel, Ugtaal, Zaamar, Zuunmod, Baruunturuun, Bökhmörön, Davst, Khovd, Khyargas, Malchin, Naranbulag, Ölgii, Ömnögovi, Öndörkhangai, Sagil, Tarialan, Tes, Tsagaankhairkhan, Türgen, Ulaangom, Zavkhan, Züüngovi, Züünkhangai, Aldarkhaan, Asgat, Bayankhairkhan, Bayantes, Dörvöljin, Erdenekhairkhan, Ider, Ikh-Uul, Nömrög, Otgon, Santmargats, Shilüüstei, Songino, Telmen, Tes, Tosontsengel, Tsagaanchuluut, Tsagaankhairkhan, Tsetsen-Uul, Tüdevtei, Uliastai, Urgamal, Yaruu, Zavkhanmandal.