Falkland Islands Map
Falkland Islands Location Map
Full size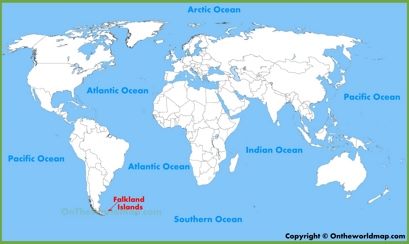 Online Map of Falkland Islands
Large detailed map of Falkland Islands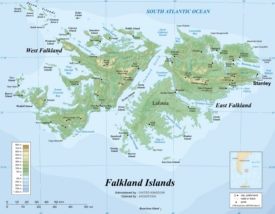 Falkland Islands physical map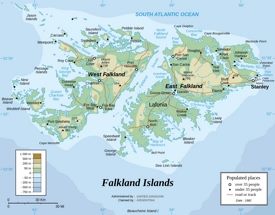 Topographic map of Falkland Islands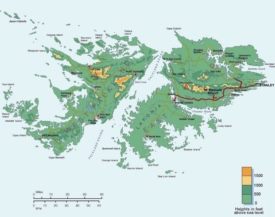 Administrative map of Falkland Islands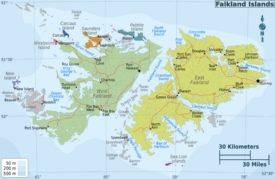 Road map of Falkland Islands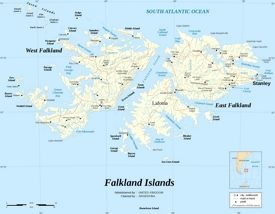 Falkland Islands location on the South America map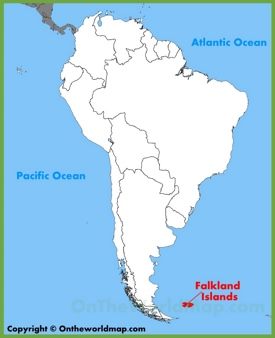 ---
About Falkland Islands:
The Facts:
Sovereign state: United Kingdom.
Capital: Stanley.
Area: 4,700 sq mi (12,200 sq km).
Population: ~ 3,400.
Towns and Settlements: Stanley, Goose Green, Port Howard, Ajax Bay (East Falkland), Beaver Settlement (on Beaver Island), Bluff Cove Settlement (East Falkland), Bombilia House, Burnside House, Camp Verde, Carcass Island, Ceritos, Chartres, Cranmer, Darwin, Dos Lomas, Douglas, Dunnose Head, Estancia House, Fitzroy North, Fitzroy, Foam Creek, Fox Bay East, Fox Bay West, Green Patch, Hill Cove, Hope Cottage, Hope Place, Horseshoe Bay, Johnson's Harbour, Keppel, Lively, Mare Harbour Rancho, Mariqueta, Mid Rancho, New House of Glamis, New Island, North Arm, Orqueta, Pebble Island, Piedra Sola, Port Albemarle, Port Egmont, Port Harriet, Port Louis, Port Louis South, Port Patterson, Port San Carlos, Port Stephens, Port William, RAF Mount Pleasant, Rincon Grande, Roy Cove, Salvador, San Carlos, Sand Fountain, Saunders Island, Sealion Island, Speedwell Island, Spring Point, Teal Inlet, Tranquilidad, Volunteer Point, Walker Creek, Weddell, Westpoint Island.
Official language: English.
Currency: Falkland Islands pound (£) (FKP).
Islands of the Falkland Islands: Weddell, Saunders, Pebble, Lively, Speedwell, Beaver, Keppel, George, Bleaker, Carcass, West Point, New, Barren, Sea Lion, Staats, Sedge, Tea, Hummock, Dunbar, Rabbit, Beauchene, Bird, Low, Kidney, Broken, Centre, Dyke, East, Eddystone Rock, Fox, Golding, Great, Hog, Horse Block, Long, Middle, Narrow, Passage, River, Ruggles, Split, Arch Islands, Passage Islands, Swan Islands, Tyssen Islands, Weddell Island Group, Elephant Jason, Flat Jason, Grand Jason, South Jason, Steeple Jason.