Rhodes Maps
Rhodes Location Map
Full size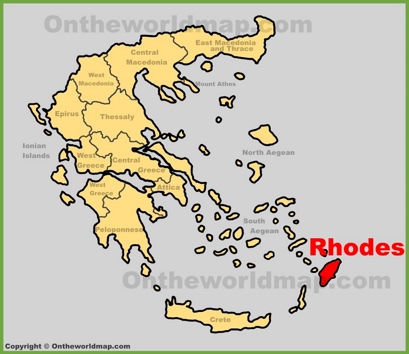 Map of Rhodes with cities and towns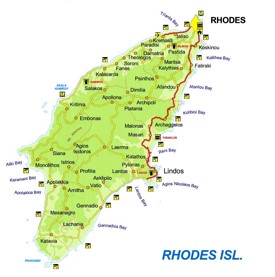 Rhodes tourist map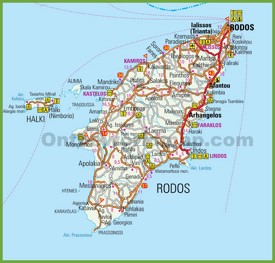 Rhodes road map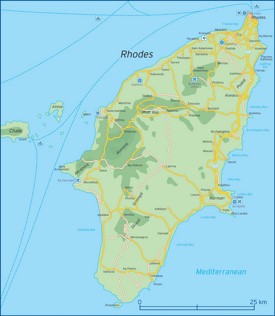 Rhodes beaches map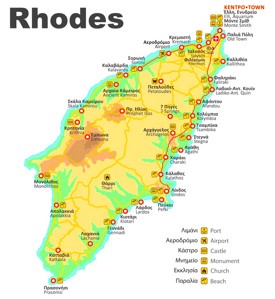 Rhodes City maps
---
About Rhodes:
The Facts:
Region: South Aegean.
Regional unit: Rhodes.
Cities, towns and villages: Rhodes City, Ialysos, Afantou, Archangelos, Kremasti, Kalythies, Koskinou, Pastida, Paradeisi, Maritsa, Embonas, Soroni, Lardos, Psinthos, Malona, Lindos, Apollona, Massari, Fanes, Theologos, Archipoli, Asklipio, Gennadi, Salakos, Kritinia, Kattavia, Dimylia, Kalavarda, Pylona, Istrios, Damatria, Laerma, Apolakkia, Platania, Kalathos, Lachania, Monolithos, Mesanagros, Profilia, Arnitha, Siana, Vati, Agios Isidoros.
Population: ~ 120,000.
Area: 541 sq mi (1,401 sq km).

---
---